Starting a Campus Club
Don't see a club that peaks your interest? Start one of your own! ​ ​​
Here's what you will need:
If​ you have any questions or concerns about the club chartering process please feel free to email the Inter-Club Council at icc.msjc@gmail.com. You can also attend the ICC meetings​ on any Tuesday during the semester from 12:30pm-1:30pm to ask any questions.
For any other club related or student life questions please email Suzanne Ortega, Student Equity Specialist & SJC ICC Advisor at sortega@msjc.edu or Jose R. Hernandez, Student Activities Coordinator & MVC ICC Advisor at johernandez@msjc.edu.
The Student Life & Development Program Offices are located at both San Jacinto and Menifee Campuses.
San Jacinto Campus
1499 N. State Street
Rm. 1114 (inside the cafeteria)
San Jacinto, Ca 92583
951-639-3380
Menifee Valley Campus
28237 La Piedra Rd.
Rm. 1007
Menifee, Ca 92584
951-639-5260​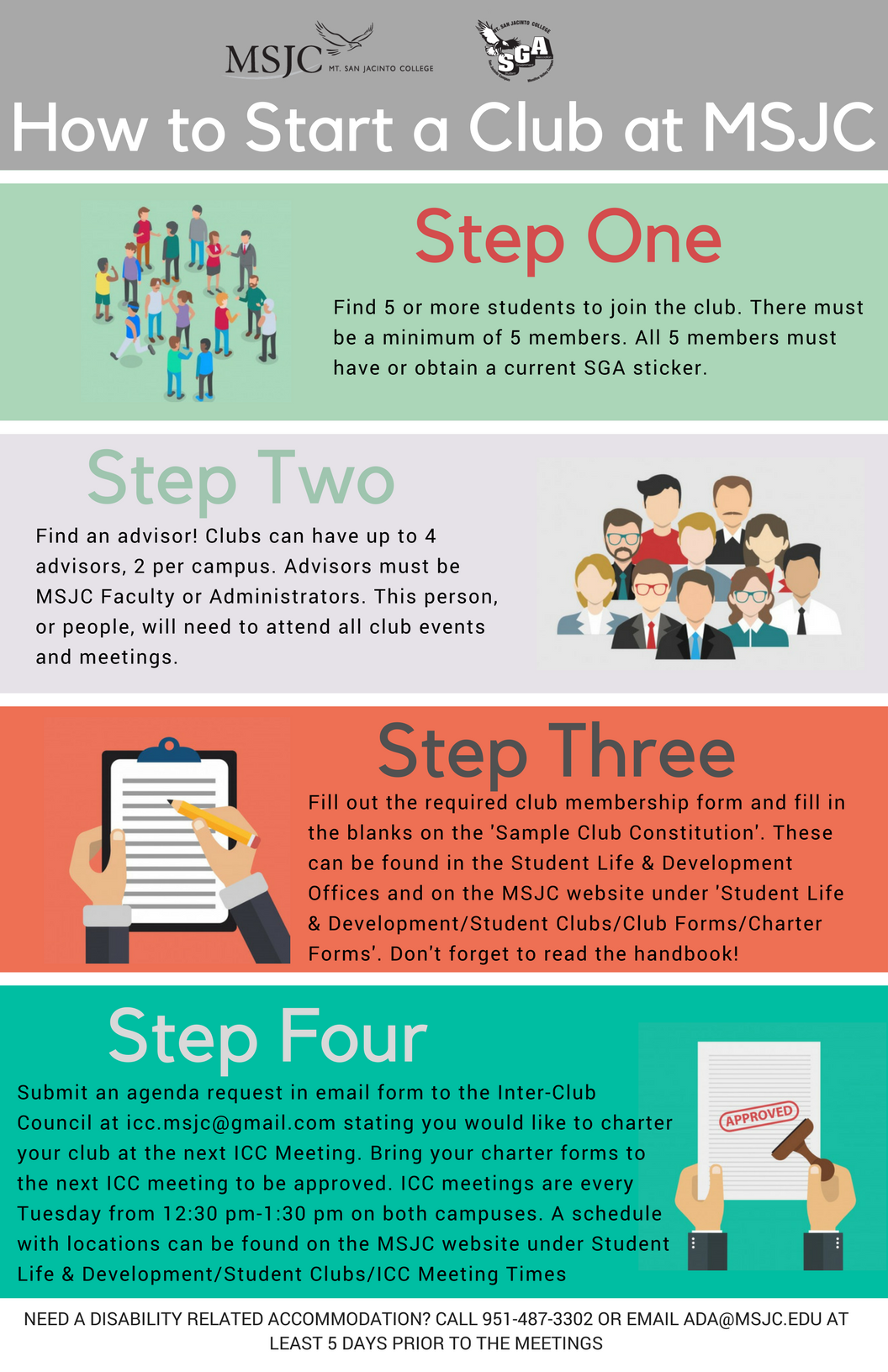 Find 5 or more students to join the club. There must be a minimum of 5 members. All 5 members must have or obtain a current SGA sticker. ​
Find an advisor! Clubs can have up to 4 advisors, 2 per campus. Advisors must be MSJC Faculty or Administrators. This person, or people, will need to attend all club events and meetings.
Fill out the required club membership form and fill in the blanks on the 'Sample Club Constitution'. These can be found in the Student Life & Development Offices and on the MSJC website under


'Student Life & Development/Student Clubs/Club Forms/Charter Forms​'.


Don't forget to read the handbook!​
Submit an agenda request in email form to the Inter Club Council at icc.msjc@gmail.com stating you would like to charter your club at the next ICC Meeting. Bring your charter forms to the next ICC meeting to be approved. ICC meetings are every Tuesday at 12:30pm on both campuses.
A schedule with locations can be found on the MSJC website under: