Student Civic and Voter Empowerment
Student Civic and Voter Empowerment
About the Student Civic and Voter Empowerment Act (AB 963)
The California Student Vote Project (SVP) is a special project that is being implemented throughout the higher education system in California (CCC's and CSU's). The purpose of this project is to encourage student civic engagement efforts through partnership with the California Secretary of State.
---
Upcoming Events
Ballot Bowl Competition
Established in 2018, the California University and College Ballot Bowl is a friendly competition where all California higher education systems can compete to register the most students to vote.
The purpose of the California University and College Ballot Bowl is to:
Inspire the students to become active participants in our democracy
Motivate campuses to adopt and implement policies that boost civic engagement and participation
Showcase best practices and most civically engaged California colleges and universities
A critical step to have our voices heard on key issues, policies, and by elected officials is to Register to Vote!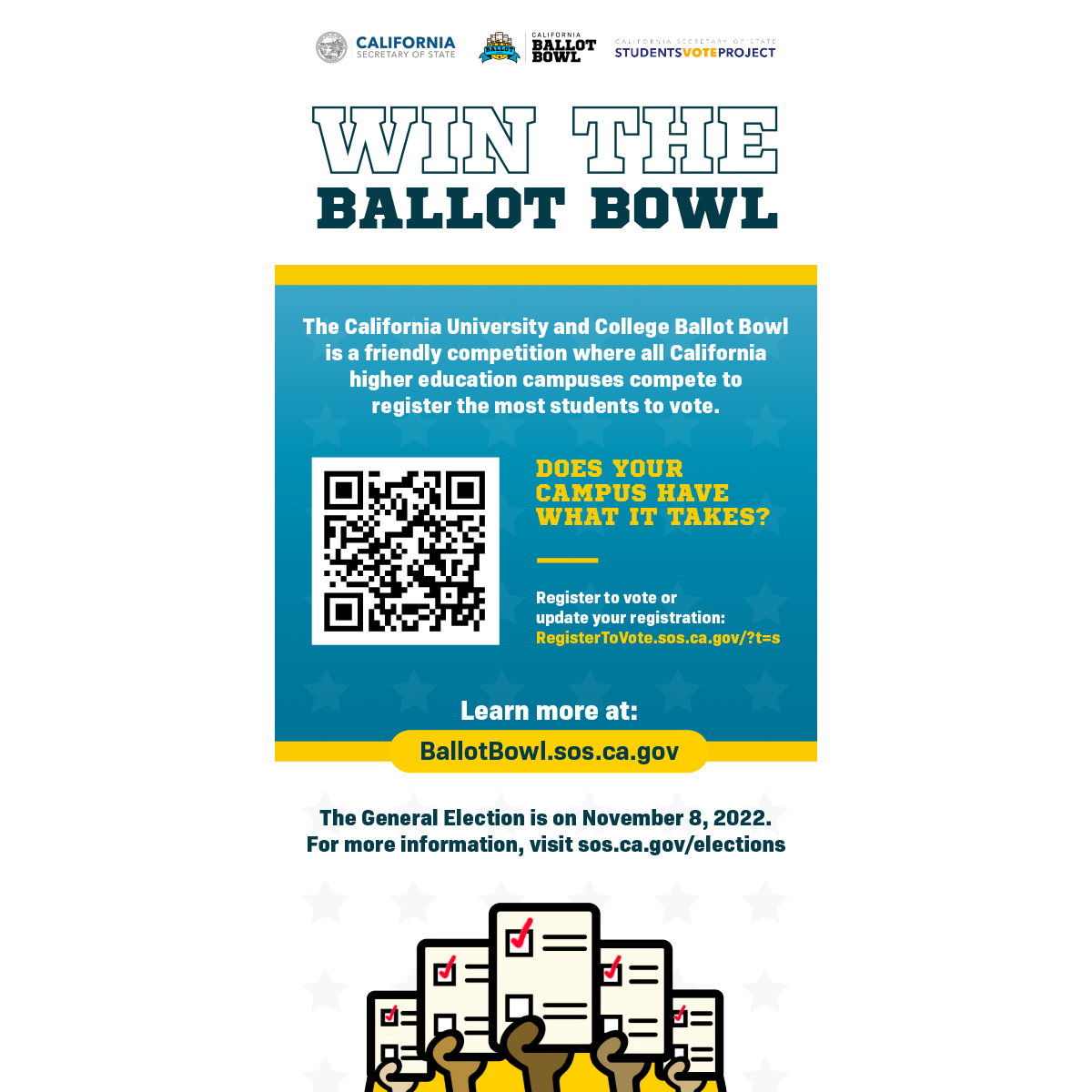 See where MSJC ranks on the leaderboard!
---
Resources
Register to Vote
General Election Information
Where/How to Vote
Key Dates & Deadlines
Voting in California
Reaching New Voters
---
Important Dates
| | |
| --- | --- |
| National Voter Registration Day | Tuesday, September 20, 2022 |
| | |
| Counties offer early voting sites - to find a location, please visit CAEarlyVoting.sos.ca.gov | Monday, October 10, 2022 |
| | |
| Last day to register to vote online or by mail ahead of the General Election | Monday, October 24, 2022 |
| | |
| Last Date to Register to Vote in Person; inlcuding; Same day Voter Registration is available -voters can "conditionally" register and vote at a county eletions office or polling location after the voter regisration deadline, up to and including Election Day. | Tuesday, October 25- Tuesday, November 8, 2022 |
| | |
| Deadline for county elections offical to send a registered voter a vote-bymail ballot | Tuesday, November 1, 2022 |
| | |
| General Election | Tuesday, November 8, 2022 |
*For more details, visit: https://bit.ly/3BBHOGx