Student Health Center
Home Services Patient Portal SHC Take-OVER

---
We can be reached via email or Call (951) 465-8371 to schedule in-person or telehealth appointments.

While the student health center strives to give quality care to as many students as possible, there will be times when appointments are not available. Please see this LIST OF RESOURCES (Mental Health, Domestic Violence, Coping Skills) available for students in their time of need.

In the event of an emergency (medical or otherwise) please DIAL 9-1-1.

COVID19 Vaccine go to MyTurn.ca.gov, Effective March 23, 2022 the Student Health Center will no longer be providing COVID-19 vaccines. Please schedule any future appointments with other local providers in your area using MyTurn.ca.gov.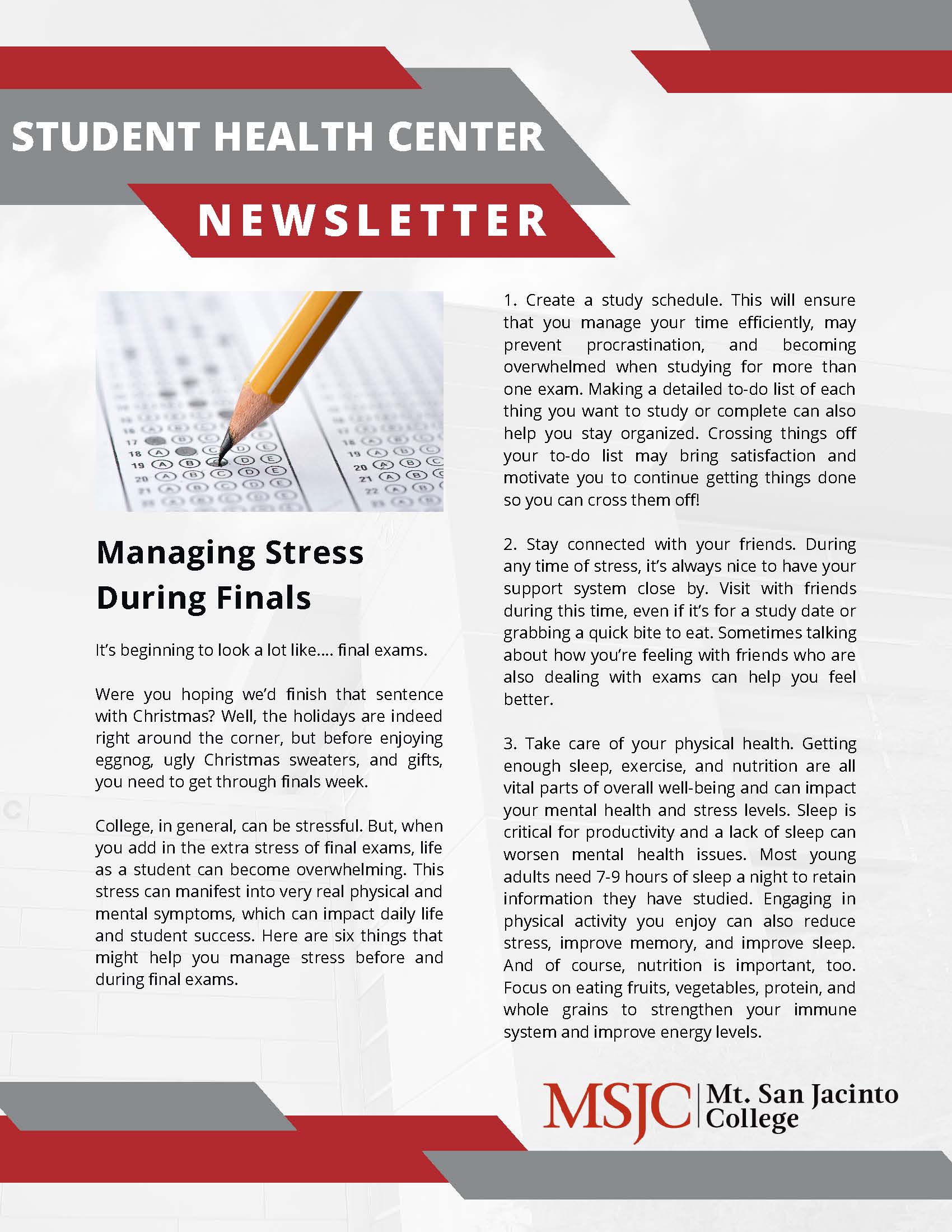 Welcome! ¡Bienvenido! Bienvenue! Benvenuto! Willkommen!

Wellness begins by looking where it isn't
What comes to mind when you think about health & wellness; - Nutrition? - Exercise? - Weight Mgmt.? People typically only think about health in the physical form but health & wellness is composed of so
much more.
MSJC Student Health Centers are your centers of health & well-being. We treat the whole person and aim to prepare you to be successful in life, not just in school.
MSJC Student Health Centers operate around the 8-Dimensions of Wellness
Physical . . Intellectual . . Emotional . . Social . . Spiritual . . Occupational . . Financial . . Environmental
Focusing our program on The Eight Dimensions of Wellness, we are able to give you the tools to not only evaluate your overall health and wellness but empower you to make choices and change habits that will improve your quality of life.
The Student Health Center is a place where students can feel relaxed, rejuvenated and most importantly welcome. We don't want you to come and see us only when you are sick.
Check out our Services and contact us today to see how we can help you to be the best version of you!
---
Administrative Contact
Dr. Lisa McAllister
Dean Health Services
Lateasha Allen
Director of Mental Health Services
Tyler Hills
Administrative Associate
Ruthy Joseph
Health Services Supervisor
Credits: Banner Photo by Jazmin Quaynor on Unsplash