Human Resources at MSJC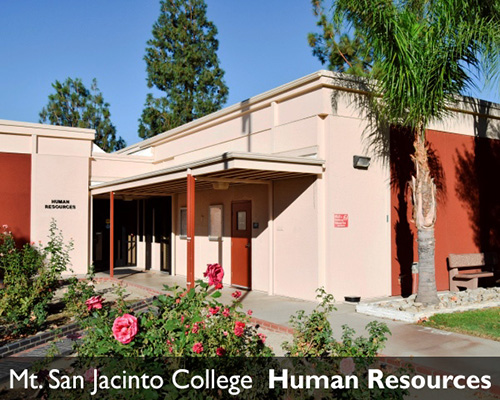 Human Resources is located in building 200 on the San Jacinto Campus
Welcome to Mt. San Jacinto College! When you join the team at MSJC, you will be a part of an inclusive, innovative and equity-focused community that is committed to educational equity for our students. This rich work environment requires broad collaboration among faculty, classified staff, administration, students and community partners.
We value the ability to serve students from a broad range of cultural heritages, socioeconomic backgrounds, genders, abilities and orientations. We seek applicants who demonstrate they understand the benefits diversity brings to a professional educational community.
Those interested in employment are encouraged to explore the links below, which includes the main job board as well as boards for the Temporary Workforce Program and Student Workforce Program. You will also find links to resources, forms and information about faculty and staff bargaining units.
Job Boards
Main Job Board Temporary Workforce Program (TWP) Student Workforce Program (SWP)
Resources
NEOGOV Customer Service: 1-855-524-5627
Contact Us
Office Hours: Monday through Thursday 8:00 a.m. to 5:00 p.m.; Friday - 8:00 a.m. to 12:00 p.m.

Phone: (951) 487-3161
Location: 1499 N State St, San Jacinto, CA 92583, Building 200 Room 220
TTY/TDD Phone: (951) 487-3160
FAX: (951) 654-5971
Unit Bargaining Agreements
Mission Statement
It is the mission of Human Resources department to advance the overall mission of the District through the acquisition, retention, and support of an excellent faculty and staff. The Human Resources Services achieves its mission by recruiting, employing, retaining, and developing faculty and staff and by maximizing excellent employee relations and excellent personal and group performance through internal consulting, problem resolution, and the provision of efficient, cost-effective, customer-responsive Human Resources department.