Counseling Department at MSJC
Counseling Department at MSJC
Counseling at MSJC is about more than helping you map out your course schedules to stay on track for graduation.
You can receive academic, career, transfer, personal and crisis counseling at our office. Our counselors are available to guide you from the moment you apply to the day you receive your degree or certificate.
All new students are required to participate in a New Student Counseling Session to develop their educational plan. Counseling appointments are currently scheduled up to two weeks in advance, however students can schedule an appointment online, by calling or visiting the counseling office and speaking to the front desk. We encourage students to meet with a counselor once per semester. This worksheet can help you prepare for your appointment.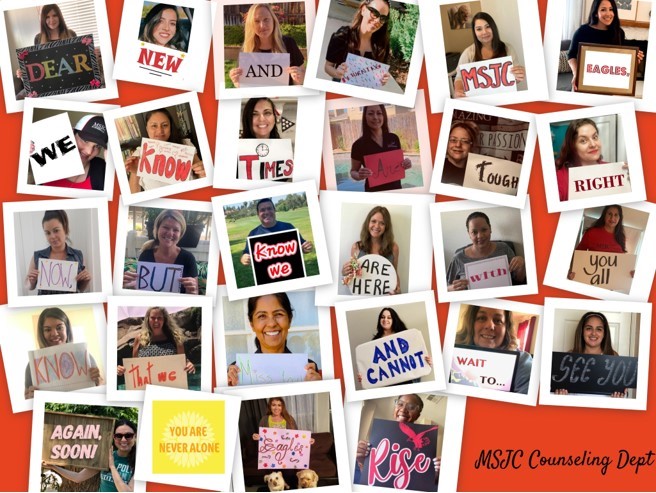 Click here for Personal Counseling
General Counseling services are offered virtually:
Counseling Department hours:
Monday - Thursday 8:00 a.m. to 5:00 p.m.
Friday 8:00 a.m. to 12:00 p.m.
Phone: 951-465-7927
Counseling Virtual Lobby hours:
Monday - Thursday 8:00 a.m. to 5:00 p.m.
Friday 8:00 a.m. to 12:00 p.m.
Please visit us at our student support hub.
This information is subject to change. If you have any questions, please contact the Counseling Department.
Administrative Contact
Please visit us at our Student Support Hub.