Financial Aid at MSJC
Federal School Code: 001246​
There are a number of ways to pay for college, but not every student is clear on the options available to them. The Financial Aid Office at MSJC is here to assist you and your parents as you navigate everything from applying for scholarships and grants through the disbursement of financial awards. The information below provides a general overview of the financial aid process, available workshops, and orientations available to you and your parents. Please reference this information and take advantage of the programs available to help remove the burden of paying for college.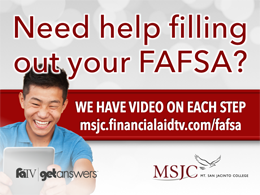 During a state and federal budget crisis, there are often legislative changes concerning student financial aid. Please know that every effort has been made to keep this page updated with the most current information available. If you have specific questions related to Financial Aid and are near the San Jacinto or Menifee campus, it's advised you visit the office in person, as walk-in students receive priority service, and because emails and phones are not constantly monitored, please expect a delay in receiving a response if you choose to send an email or call the office.
Financial Aid Office Hours:
All MSJC campus locations are CLOSED by mandates of Riverside County Health Department due to the COVID-19 epidemic.
Check out the new Student Support Hub to connect with the Financial Aid Office by phone or chat, and submit documents online.
Contact the Financial Aid Office by email at finaid@msjc.edu
Virtual Office Hours
(951) 465-7891
Mon - Thurs​​​​​​​​​​​​​​​​​​​​​​​​​​​ 9 AM - 5:00 PM
Friday​ Closed
Submit Documents: Student Support Hub
Administrative Contact
Shanae Williams
Director
swilliams@msjc.edu