Personalized Academic Learning Skills (PALS)
Personalized Academic Learning Skills (PALS)
(formerly Learning Skills Program)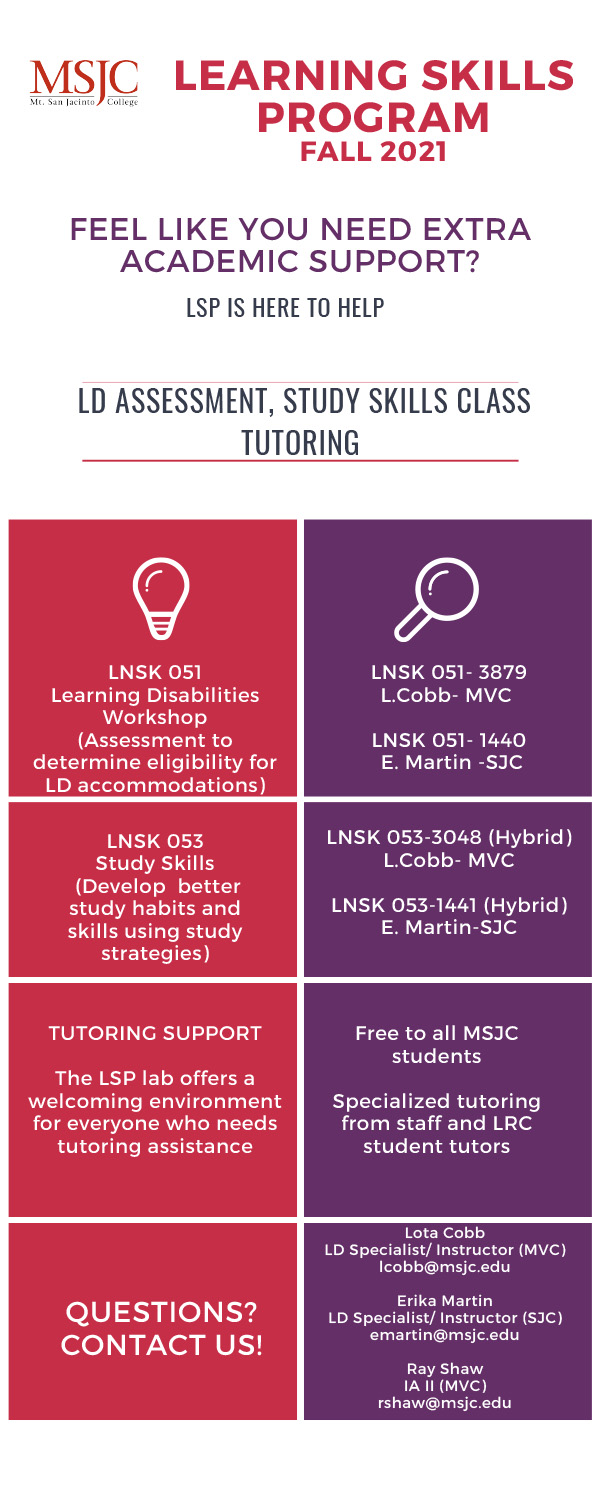 Feel like you need extra academic support?
PALS is here to help.
Program Description
Personalized Academic Learning Skills (PALS) offers specialized instruction and services to students who are identified as having specific learning disabilities under the California Community College Learning Disability and Eligibility and Services Model (LDESM). Specific learning disabilities are often due to constitutional, genetic, and or neurological factors and are not primarily due to visual or auditory sensory deficits, mobility limitations, severe emotional disturbances, economic disadvantage, cultural or language differences.
The Learning Skills courses are taught by faculty experts in Learning Disabilities. Courses are designed to provide learning disabled students with compensatory strategies necessary for achieving personal, academic, and career success. A Learning Disabilities workshop is designed to assess strengths and weaknesses and determine educational limitations and compensatory strategies. Specialized classes in reading, oral and written expression, study skills and mathematics support teach compensatory strategies designed to help students maximize their success in college. Services include assistive computer technologies, specialized tutoring, and educational advisement.
Learning Skills courses do not lead to a major however up to six units of courses numbered 70 or above may be counted towards graduation.
Mission Statement
The Personalized Academic Learning Skills (PALS) program provides assessment and strategic, personalized instruction that specializes in comprehensive support for students with learning differences or need extra support to master reading, writing and/or math skills.
Vision
To provide ALL students with equal and equitable access to programs and services at MSJC by working collaboratively with the Accommodation Service Center (ASC), Learning Resource Center and Student Services.