Schedule of Classes
Welcome to MSJC! If you are new to MSJC, apply now to get started.
Are you a first-time, full-time student and a California resident? You may be eligible for FREE tuition with the MSJC Promise. Learn more at msjc.edu/free
Returning students, use the links below to review the class schedule and register for classes.
Spring 2020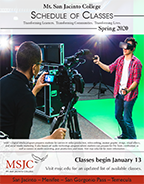 Spring 2020 Schedule of Classes (PDF)
Term Information
Region Specific Schedules
Other Specific Schedules
These schedules where generated on 2/16/2020 at 6:01 AM
Policy on Open Enrollment
Unless specifically exempted by statute, every course, course section or class which is to be reported for state apportionment, is open for enrollment and participation by any person who has been admitted to the college and who meets the prerequisite of such course as defined by Title 5, section 58106 of the California Administrative Code.
En Español
Si necesita ayuda en Español, por favor hable a 951-487-3268 o 951-487-3255.