Extended Opportunity Programs and Services
Extended Opportunity Programs and Services
Classes and services are now being offered online only.
MSJC locations are currently closed with the exception of the Bookstore.
Learn more at msjc.edu/coronavirus
EOPS is a student support programs funded by the state of California (under Title 5) designed to recruit and retain students who are economically, socially, and educationally disadvantaged by providing them with the tools and resources to help them achieve their educational goals. The services of EOPS are designed to give students individualized attention and support to improve their chances for success. "The programs primary goal is to encourage the enrollment, retention and transfer of students disadvantaged by language, social, economic and educational circumstances, and to facilitate the successful completion of their goals and objectives in college. EOPS offers academic and support counseling, financial aid and other support services." http://extranet.cccco.edu/Divisions/StudentServices/EOPSCARE.aspx
MSJC EOPS Mission Statement
EOPS provides students with a safe environment to discover and develop a menu of skills for personal and professional growth. We are dedicated to helping students realize the resiliency of their nature, the uniqueness of their humanity and encourage students to utilize these strengths toward the completion of their goals. EOPS is committed to empowering diverse underrepresented students to overcome barriers and achieve their academic and career aspirations, by delivering supportive services which are above and beyond what the college provides.​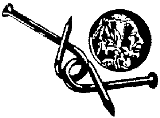 The Story Behind the Nickel and the Nail
​The story goes that a young man, years ago in the deep South, walking down a long, unpaved, dusty road to visit his lady friend, was all too aware that he had but a nickel in his pocket and that his self-esteem would be questioned if he were unable to indicate that he was a man of means. Noticing two gnarled horseshoe nails lying by the side of the road, he picked them up and put them in his pocket. As he jingled these ferrous objects together with his meager fortune, he walked a little bit straighter and with a little more pride and dignity.
Similarly, the Extended Opportunity Program endeavors to enhance self-esteem, foster pride and dignity, and motivate those whom the program serves, enabling them to more effectively define and pursue career goals. It is important that they too have "something to jingle".
Further, the nails are twisted into a puzzle, suggesting that the complete enigma has still yet to be unraveled for helping those who, through societal circumstances, have been limited in successfully meeting their educational challenge.
Contact Information, Office Hours and Locations
Phone: 951-465-8363
Email: eopsoffice@msjc.edu
Hub: msjc.edu/hub
Virtual Lobby: EOPS Lobby (Virtual lobby hours M-TH 8:00 a.m. to 5:00 p.m., F 8:00 a.m. to 12:00 p.m.)
Schedule an appointment: EOPS, CARE, UndocuDREAMers, and Guiding LIght Appointment
e-Document Submissions: Secure Document Upload
Administrative Contact
Heather Jones
Interim Director, EOPS/CARE
Primary Unodcu Liaison (DREAMers) and
Foster Success Initiative Liaison (Guiding Light)
hjones@msjc.edu
951-487-3290