EOPS Admissions
We are now accepting applications for SPRING '24
Eligibility Requirements
Be a resident of California or meet AB 540/ California Dream Act requirements
Be enrolled full-time (12 units, unless you are an Accomodation Service Center (ASC) student with a waiver) in a program leading to a certificate, associates, or transfer to a 4-year university.
Qualify to receive a CCPG (California College Promise Grant) A or B.
Be educationally disadvantaged as determined by Title 5 and the EOPS program guidelines.
Have not completed more than 60 degree applicable units.
Admission into the program is on a first-come-first serve basis.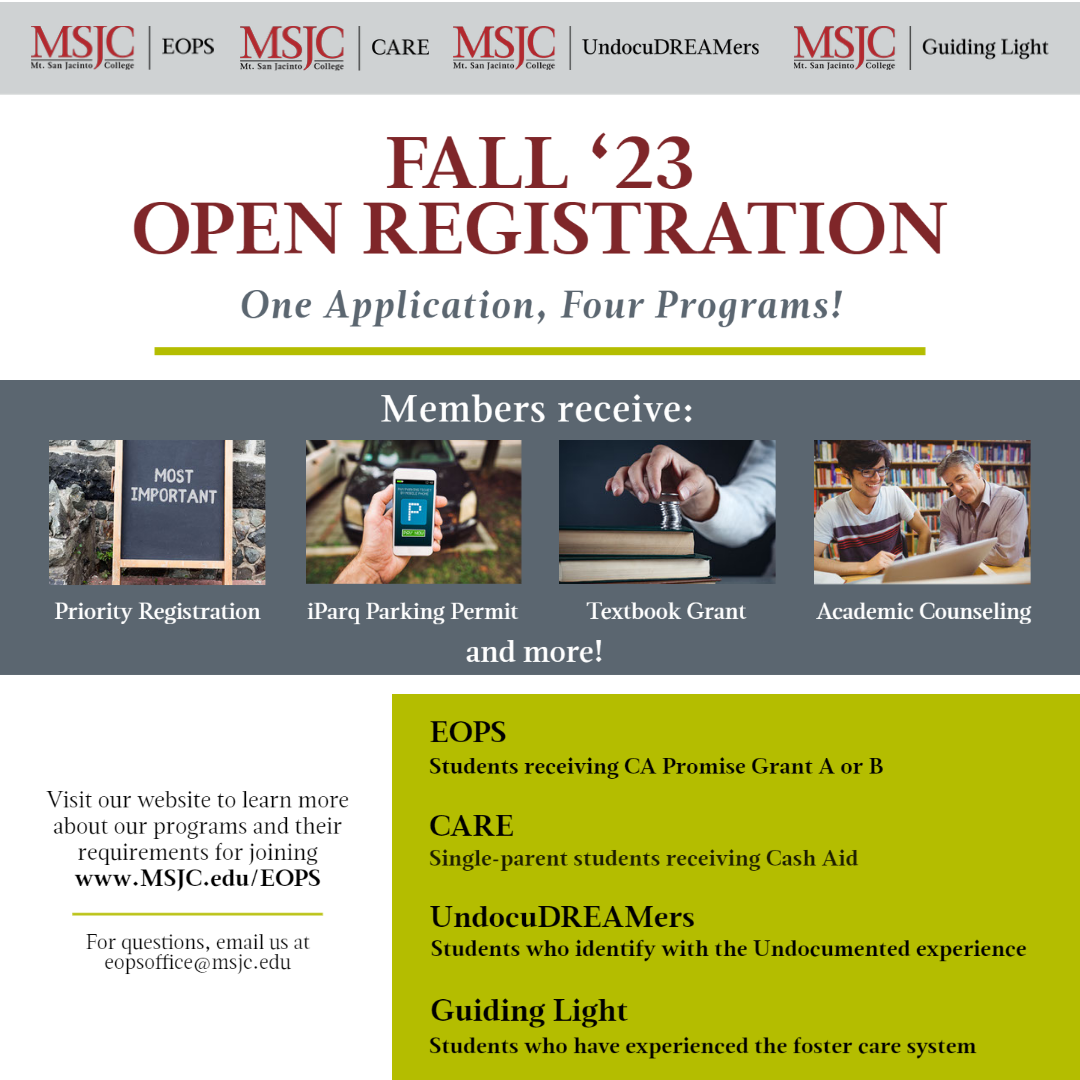 ​​Prior to Applying for EOPS:​
Submit the FAFSA Application or CA Dream Act Application to the Financial Aid Office
Submit official transcripts to officialtranscripts@msjc.edu
High School Transcripts should be available upon request through the high school of attendance.

Students who have graduated from high school within the last 10 years may be eligible for Math and English placements based on high school transcript information reported on their CCCApply admissions application. Learn more about Multiple Measures.

College Transcripts, if applicable. Please submit your official transcript, from the prior college you listed on your application. We cannot proceed until we receive and evaluate your degree applicable units. 
What to Expect After Submitting an EOPS Application:
EOPS will contact students who have applied for the program via their msjc student email regarding their application. Incomplete applications will not be processed, no exceptions.
Limited spots are available due to funding and the number of continuing EOPS students. Applications are accepted on a first-come-first-serve basis.​
Student may remain eligible for EOPS services unless one of the following occurs:
Completes 70 degree applicable units.
Failure to complete 1st, 2nd, and 3rd contact with with an EOPS counselor.
Dropped/withdraws classes without consulting with EOPS/CARE Counselor/Director.
Completed semester with less than 2.0 GPA
Failure to comply with supplemental contract or counselors strategies for improvement
Students that are discovered cheating or committing fraud with EOPS/CARE benefits/funds or who display abusive behavior toward EOPS/CARE staff/faculty or in the EOPS/CARE center will be automatically dismissed.
Failure to meet the terms and conditions of the EOPS Mutual Responsibility Contract.
Student must adhere to the following in order to remain eligible for EOPS services:
Maintain three (3) EOPS counselor contacts per semester, to schedule an appointment go to EOPS/CARE Guiding Light at msjc.edu/hub. If on EOPS intervention, student must attend one intervention workshop.
Enroll in 12 units per semester and maintain a 2.0 GPA.
Attend all mandatory orientations.
Declare a major/academic goal by the end of second semester in EOPS.
Develop/update an EOPS Student Ed Plan each semester with an EOPS counselor.
Follow your EOPS Student Ed Plan when scheduling classes.
Consult with an EOPS counselor before making changes to your class schedule.
Meet with an EOPS counselor if experiencing difficulties which may impact your academic progress.
Use Textbook funds ONLY for classes currently enrolled in.
If placed on EOPS intervention and continue to not comply with the Mutual Responsibility Contract student will be removed from the program at the end of the intervention term.
Notify EOPS of any changes in your name, address, or phone number.
Apply or renew FAFSA each year.
CARE students must adhere to specific requirements outlined by the CARE program.
Student is responsible for ensuring that they have a completed Progress Report when they attend their second contact during walk-in times. Students taking on-line classes can download & email the
Submit EOPS Progress Report to your instructors at msjc.edu/hub (Canvas grades are accepted)
If you utilize the Accommodation Service Center (formerly DSPS), the student must provide EOPS with a reduced course load document signed by ASC authorized personnel if less than 12 units are recommended. Student will provide this documentation prior to the expiration of the document.
Need to demonstrate semester-by-semester progress.
Having difficulties submitting your online EOPS Application?
Please contact the office staff at eopsoffice@msjc.edu or call (951) 465-8363.
THANK YOU FOR VISITING THE MSJC EOPS WEBSITE. WE LOOK FORWARD TO SERVING YOU IN THE FUTURE!