Current Guiding Light Students​
Current Guiding Light Students​
ANNOUNCEMENTS​
Follow EOPS on Instagram for latest news and updates @eops_msjc

EVENTS
"My Foster Care is..." Art & Poetry Contest | April 1st - May 19th
Art, poetry, music, essays - and any other creative outlet - are encouraged that capture the theme: "Redefining My Foster Care Experience". 
For individuals who have experienced the foster care system, often times their experiences can feel limited to one perspective of what the foster care system is. For some, the foster care system was a saving grace while for others it may have been traumatizing. Regardless of what one's experience was or even currently is in the foster care system, we want to hear how you are redefining those experiences for yourself, your family, your loved ones, etc. We want to hear how you are using your experiences to empower and motivate yourself in reaching your goals. Win up to $300 for your work!
1st place: $300
2nd place: $200
3rd place: $100
Entry Instructions:
Submissions must be sent by email to guidinglight@msjc.edu. In your email, also include the following information: Full name of artist (only first name will be shared publicly), Age of artist (will be shared publicly), Major of artist (will be shared publicly), Short summary of foster care experience (will NOT be shared publicly), student email address, phone number, whether or not you are already connected to Guiding Light at MSJC, Any additional information you would like us to know about the work.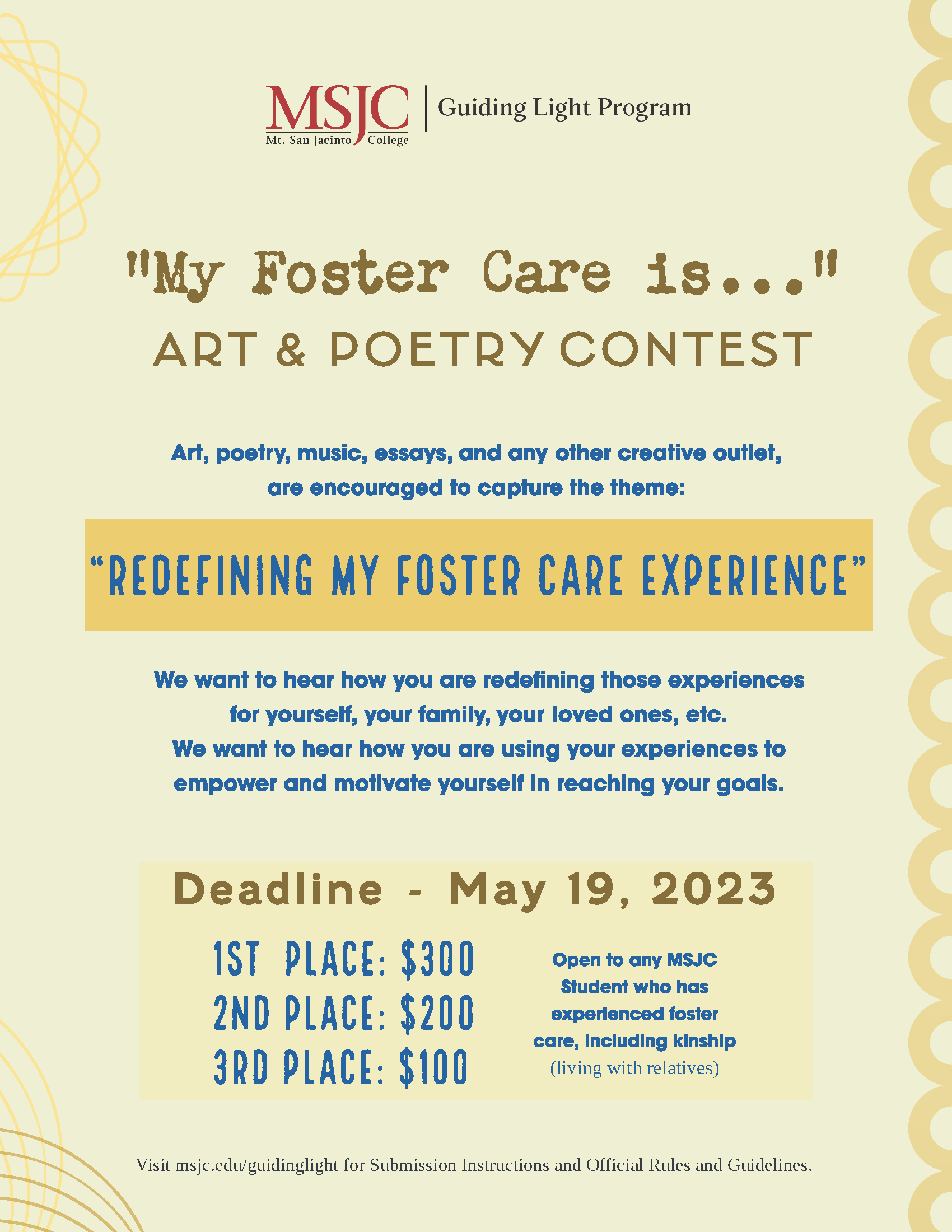 Official Rules and Guidelines:
For any MSJC student who has experienced the foster care system even for just one day. Submissions can take the form of essays, poems, original music, original artwork, or any other method of creative expression that convey their experiences and feelings about redefining the foster care experience. Essay, poem, or other type of writing, submissions must be under 500 words, in English (or include an English translation of the original work). The work should be typed. Video submissions should be no more than 5 minutes long. A foster parent, caseworker, family member or other support person may help students develop an entry, though the actual content should be the student's own work. Deadline is May 19, 2023 at 11:59pm. Prizes will be in form of Scholarship to Winners. All entries will be shared on the Guiding Light website with the winners highlighted.
Foster Care Awareness Month Kick-Off Event | May 1st, 2023
Menifee Valley Campus Gymnasium | 4:00 - 6:30 pm

Join us for an afternoon of resource-building, encouragement, and acknowledgment as we celebrate Foster Care Awareness Month.
We will host the Inaugural Kick-Off Event in partnership with Oak Grove's THRIVE, Olive Crest, and Hemet Unified School District.
The afternoon/evening will include ---
a mini-resource fair
food provided by the Habit Food Truck
a keynote address by Dee Hankins
opportunities drawings
networking opportunities
and more...
FORMS
Textbook Reimbursement Request