Current UndocuDREAMers Students​
Current UndocuDREAMers Students​
ANNOUNCEMENTS​
Counselor Contact Dates
Contact 1: January 17 – March 17
Contact 2: March 6 – April 21
Contact 3: April 17 – May 25
DREAMER SERVICE INCENTIVE GRANT
The California Dream Act Service Incentive Grant Program (DSIG) encourages California Dream Act Application (CADAA) students with a Cal Grant B award to perform community or volunteer service. The California Student Aid Commission (CSAC) will award up to $3,000 per academic year to 2,500 eligible students.
PAST EVENTS
Inaugural UndocuGraduation
The Inaugural UndocuGraduation and Celebration took place at Soboba Country Club on May 13, 2023 from 5:30 PM to 9:30 PM.
Ceremony Mission Statement
The MSJC UndocuDREAMers' UndocuGraduation is devoted to recognizing and celebrating Undocumented, DREAMer, AB540, and Mixed Status students and allies for their perseverance in persisting and attaining their college degree. This ceremony is a celebration for students, their family and those who have supported them on their journey thus far.
Ceremony Vision
We create a traditional ceremony for our UndocuDREAMer students that illumniates their achievements, advocacy, and promotes their future successes. The ceremony also highlights the voices and experiences of those who came before the current class and the legacy the provided for them to be where they are today.
History of UndocuGraduation
The Class of 2023 will be the inaugural UndocuGraduation Class. This year's UndocuGraduation class consists of several founding members of the Eagle's DREAMers Club at MSJC and a number of students who have been with EOPS through the evolution and creation of the UndocuDREAMers Program at Mt. San Jacinto Community College.
Unapologetic Experience Series
Art Expression | April 19, 2023
Menifee Valley Campus Room 250 | 3:00 - 5:00pm

Join us in an art experience in which we will explore how to care for ourselves through art expression. Light refreshments will be provided as we paint. Limited spots are available.
Film Screening and Conversations: "No Le Digas a Nadien" | April 26, 2023
San Jacinto Campus Room 1250C | 5:00 - 7:00pm

Enjoy light refreshments as we watch and analyze the film No Le Digas a Nadien.
No Le Digas a Nadien (Don't Tell Anyone) is a 2015 documentary film directed by Mikaela Shwer. It focuses on immigrant activist Angy Rivera as she shares her parallel journey of coming out of the shadows as undocumented and as a survivor of sexual abuse. Angy joins pro-immigration rallies and proclaims she is "undocumented and proud" - her compelling journey places a human face on the current national immigration debate.
Healing Space | May 2, 2023
San Jacinto Campus Room 1212 | 3:00 - 5:00pm

Join us while we proudly host Mayra Barragan O'Brien, the Undocu Therapist, and learn about mental health awareness in the immigrant community. Mayra is a first-generation, undocumented Latina, graduate of CSUSB with a Master of Science in Clinical/Counseling Psychology. She is an Associate Marriage and Family Therapist. Her goal is to continue to work closely with immigrant and underrepresented communities as a mental health advocate.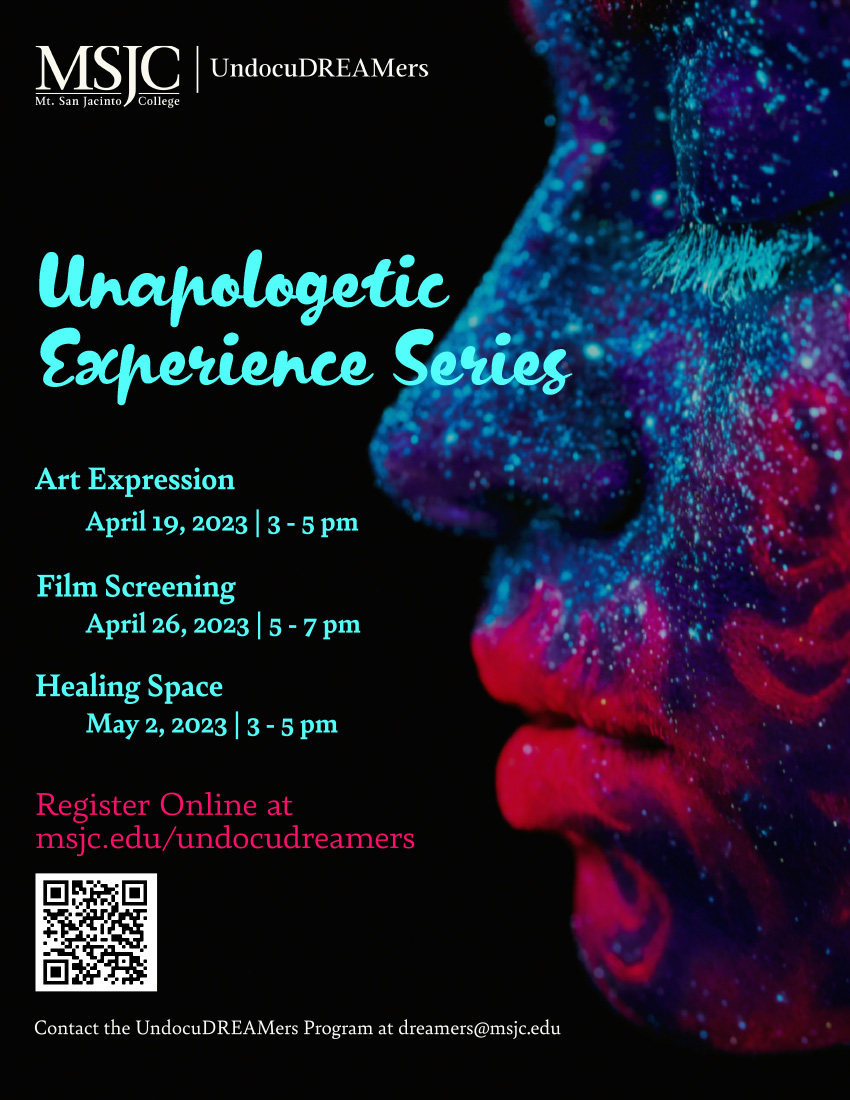 FORMS
Textbook Reimbursement Request