RTA Go Pass Program
MSJC believes all students should be afforded the opportunity to attend college, and lack of transportation should not hinder your ability to succeed. The RTA "GoPass" and Eagle Card allows you to ride any RTA route anytime RTA operates during any semester that you are registered by swiping your Eagle Card.
This service comes at a $6 fee, which is automatically charged when you enroll in classes. All students, except Continuing Education students, are required to pay the fee, which is not covered by financial aid or waived for concurrent or dual enrollment students. The fee additionally allows you to use the Pass Transit Bus System at no additional charge. To use this service, you will need to pick up a semester-specific "Pass Transit" sticker for your Eagle Card from Enrollment Services at the San Jacinto or San Gorgonio Pass campuses.
In the event your Eagle Card is lost or stolen, please visit the Enrollment Services Office to receive a replacement card at no extra charge. A replacement card will deem any previously issued Eagle Cards invalid so if you find the missing card, you'll want to dispose of it to avoid confusion. Enrollment Services can additionally assist you if RTA is unable to read your Eagle Card.
Students who drop all courses during any semester become ineligible for the "GoPass" program and will need to re-enroll and pay any outstanding fees before their Eagle Card will be accepted on RTA buses.
Get your Eagle Card
After you've enrolled in classes and paid the transportation fee, you can receive your Eagle Card by visiting Enrollment Services at the San Jacinto, Menifee Valley, Temecula or San Gorgonio Pass campuses during business hours. In order to receive your Eagle Card, you will need to provide Enrollment Services with a form of photo identification. Students will not need to get a new Eagle Card each semester.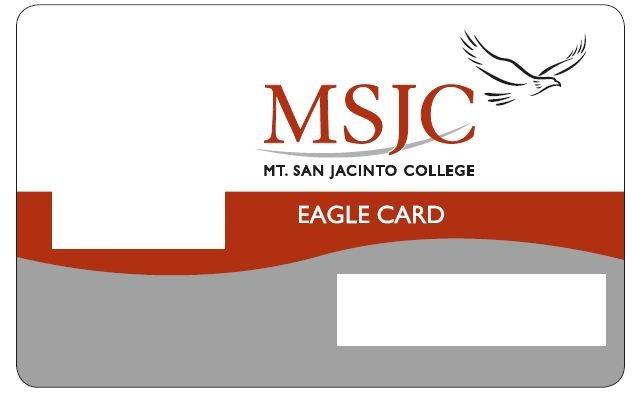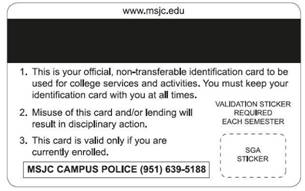 Note: While campuses are closed due to COVID-19 pandemic, new students and returning students who need a replacement ID card can contact Enrollment Services by emailing enrollsvcs@msjc.edu to request a Token Transit app downloadable to their smart phone that can be used for RTA ridership temporarily, starting May 25, 2020.