Jhalister Corona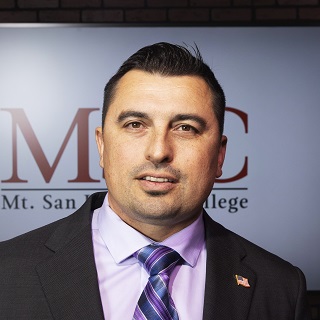 he/him/his
Trustee Jhalister Corona took the Oath of Office to serve on the Mt. San Jacinto College Board of Trustees on Dec. 15, 2022. Mr. Corona represents Trustee Area 4.
Mr. Corona knows MSJC from several perspectives: He was a student at MSJC who understands the difficulties students may face. In addition to attending MSJC, Mr. Corona attended classes at Riverside City College. He earned a bachelor's degree in history and comparative cultures from Whittier College where he was a standout in Track and Field. He holds two master's degrees, one in education/teaching credentials from Claremont Graduate School of Education and a master's in administration from California State University, San Bernardino. Mr. Corona is also bilingual.
As an AP world history teacher for the Perris Union High School District for 20 years, he has prepared students to continue their education. He understands the struggles and obstacles students and instructors face. Many of his students and colleagues are involved with the college district's Dual Enrollment program. He has coached soccer, cross country, track and wrestling.
Mr. Corona is passionate about MSJC's Strategic Goals:
Goal 1: Promote, encourage, and create a culture of racial equity, diversity, and inclusion to address and eliminate systemic racism, academic barriers, and educational injustice through implementation of culturally responsive and affirming practices
Goal 2: Create Structured Educational Experiences that Support Students from Point of Entry to timely and efficient Attainment of Educational Goal in both on campus and distance education environments
Goal 3: Implement, strengthen, and transform curriculum, classroom management, and academic and student support services to focus on the success and retention of our highest priority students in both on campus and distance education environments
Goal 4: Foster an institutional climate that promotes inclusivity, is welcoming and engaging, and creates community and belonging for students, faculty, and staff
Goal 5: Partner with local business, industry, cities, and communities to increase experiential opportunities for student to explore, transition to, or promote within the regional workforce
Goal 6: Strategic Enrollment, Planning, and Fiscal Responsibility: Support the optimization of strategic enrollment management, planning, and student success to ensure fiscal viability
Goal 7: Facilities Planning and Improvement – Provide facilities at all locations that are inviting, accessible, and safe
Mr. Corona has two daughters and loves spending time with family, which also includes his two yellow labs. He enjoys gardening, running, politics, debates and DIY projects.
Mr. Corona holds the distinction of being a 12-varsity letterman in high school and still holds Whittier College's 1500 school record.