Brian Sylva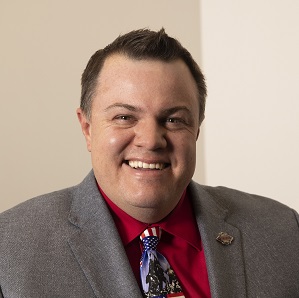 Brian Sylva represents Trustee Area 1 and has served as a Mt. San Jacinto College District Trustee since 2020.
The Beaumont resident earned a bachelor's degree in history from UC Riverside and associate degrees from Riverside City College. 
Trustee Sylva works at College of the Desert as the Sports Information Director, a position he previously served in for nine years at San Bernardino Valley College. 
Trustee Sylva has served in various positions on several boards and community groups, including Beaumont Unified School District, Beaumont Chamber of Commerce, Beaumont-Cherry Valley Rotary, San Gorgonio Memorial Hospital Healthcare District, and the California Community College Sports Information Association (CCCSIA).
Trustee Sylva is passionate about Mt. San Jacinto College District Strategic Goals 1, 2, 5, 6 and 7.
Goal 1:

 Promote, encourage, and create a culture of racial equity, diversity, and inclusion to address and eliminate systemic racism, academic barriers, and educational injustice through implementation of culturally responsive and affirming practices.

Goal 2:

 Create Structured Educational Experiences that Support Students from Point of Entry to timely and efficient Attainment of Educational Goal in both on campus and distance education environments.

Goal 5: 

Partner with local business, industry, cities, and communities to increase experiential opportunities for student to explore, transition to, or promote within the regional workforce.

Goal 6:

 Strategic Enrollment, Planning, and Fiscal Responsibility: Support the optimization of strategic enrollment management, planning, and student success to ensure fiscal viability.

Goal 7: 

Facilities Planning and Improvement – Provide facilities at all locations that are inviting, accessible, and safe.
He enjoys watching his favorite sports teams and likes golfing, exercising, listening to sports talk radio, and eating at new places. He also attends church with his family.
Brian and wife Jennie Rose have been married for 15 years and adopted 4-year-old twin girls in 2020.