Music
Whether your goal is a career in music, to transfer into a four-year university as a music major, or simply to further your musical skill and understanding, the MSJC music program welcomes you! As a college-trained musician, you can find careers in a wide variety of fields from teaching and performing to song-writing/composing, recording/production, and music therapy. The skills and abilities you will gain can also be applied in other majors ranging from early childhood education to digital media to performing arts management.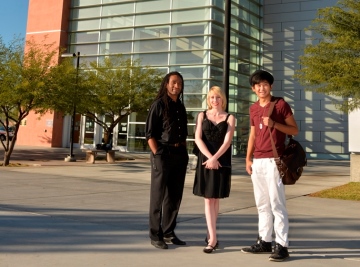 In a community of fellow music-lovers, you will develop the skills needed to succeed as a musician: reading music, understanding the nuts and bolts of what makes music work, performing confidently both as a soloist and in groups, and composing your own music. In addition to interactive courses and ensemble rehearsals, music majors receive one-on-one, personalized instrumental or voice lessons. You will also have an opportunity to explore the rich diversity of global musical traditions, stories, and cultures to broaden your artistic inspiration and personal growth.
The music faculty specialize in a wide range of musical styles and interests from traditional Western art music, to jazz, to cultural studies. Most of our music faculty remain highly active and in demand as performers, composers, clinicians, and promoters of music in the local community and across Southern California.
Contact
John Tribelhorn
(951) 639-5668
jtribelhorn@msjc.edu
Eric Rea
erea@msjc.edu