Communication Studies
Degree(s)
Tra​nsfer:
A.A.-T in Communication Studies for Transfer
(using General Education Requirements Option B or C)
See Also
A.A. in Liberal Arts - Arts, Humanities & Communications Emphasis
Non-Trans​fer:
None
See:
A.A. in Humanities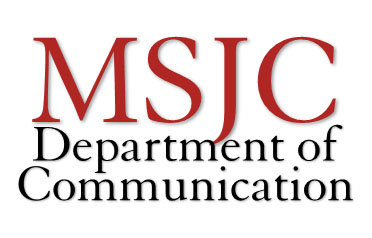 The Value of Communication Studies
What will you get from taking a Communication course?
Far more than you think. You will use & apply the concepts taught in Communication courses in many, many areas of your life and YOU will reap the rewards. For specifics, read below.
Clearer identity. We understand ourselves as we talk about our ideas and feelings, whether it's comparing family experiences or advocating a change of ideas. This leads to greater effectiveness professionally & personally.
Confidence. Most of us feel nervous when we are faced with an important communication situation. You can learn to channel that rush of adrenalin in ways that will increase your success.
Academic skills. You will develop skills in organizing thoughts and information and communicating them effectively to your instructors and other students.
Career skills. Numerous studies of top executives and human resources managers indicate that communication skills are highly related to job success.
Life skills. Communication is the foundation for satisfying relationships throughout our lives. Improved communication=improved relationships.
Fun. Interacting with others in Communication classes is an essential part of the course experience. Friendships begin, which may continue long after the class is over.
Program Description
The Communication Studies Program offers lower division preparation for students who plan to transfer to pursue a bachelor's degree in Communication Studies.
The Communication transfer program major provides students with an opportunity to improve their personal and professional lives. Students will study communication dynamics in interpersonal relationships, groups and public settings. By studying how, why, and with what consequences people communicate, students themselves will become more competent communicators. Students will develop broad based competencies in oral and written communication as well as critical analysis. This major will prepare students for careers or further studies in international relations, intercultural studies, rhetoric, public relations, advertising, journalism, corporate communications, mass media, politics, civic service and a variety of other disciplines.
Communication is a discipline with its roots in ancient Greek and Roman oratory. Oral communication skills have been important throughout the history of western culture and essential in the rise of democratic forms of government. During the Twentieth Century, the discipline has broadened from its original focus on public speaking to include the teaching of communication skills needed in all aspects of daily life: family, friendships, work groups, social contacts, intercultural relations, politics, and mass media production and consumption. The discipline plays a key role in the technologically driven Information Age.
Communication courses involve the student in the process of learning both theory and skills. Students learn by engaging in class activities that allow for application of theory to everyday experiences, development of critical thinking abilities, and practice of oral communication skills.
Employment Concentration Certificate(s)
Mt. San Jacinto College AWARD Communication, Teamwork and Leadership Employment Concentration. Soft skills are the "people skills" that accompany an individual's technical skills and knowledge. These skills help distinguish employees in the job market and workplace and are critical to excellence in any field. This skill set includes interpersonal communication skills, the ability to work collaboratively in teams, and strengthened emotional intelligence. Additionally, strong writing, speaking and listening skills, together with enhanced critical thinking skills, allow individuals to excel in personal leadership. Career Opportunities Soft skills are a collection of skills appropriate to any career in any field. In particular, this skill set allows one to be more effective in dealing directly with co-workers and the consumer/the public.What will you get from taking a Communication course?
Communication Faculty at Mt. San Jacinto College
Mr. Michael Fleming, SJC Chair
Dr. Suzanne Uhl
Dr. David Moss
Ron Newman, District Director of Forensics and MVC Co-Chair
Basemeh Rihan, Communication Studies Center Director and MVC Co-Chair
Dr. Michele Weber​, Communication 100 Hybrid Coordinator
Communication Studies Center Hours​
In March 2016 the Communication Studies department sponsored the World Speech Day event.
With this event students were able to submit a 2 minute speech about the theme "What will I do to change the world?" Gabriella Venturo was selected as the winner of this event.