Mick Gronek – From the Ground Up
Mick Gronek – From the Ground Up
August 31 – October 7, 2021

Gallery Hours:
Tuesday and Thursday, 1 – 4 pm
Mt. San Jacinto College Art Gallery
1499 N. State St. Building 1400
San Jacinto, CA 92583
www.msjc.edu/artgallery
(951) 487-3585, jknuth@msjc.edu
Masks required to visit the exhibition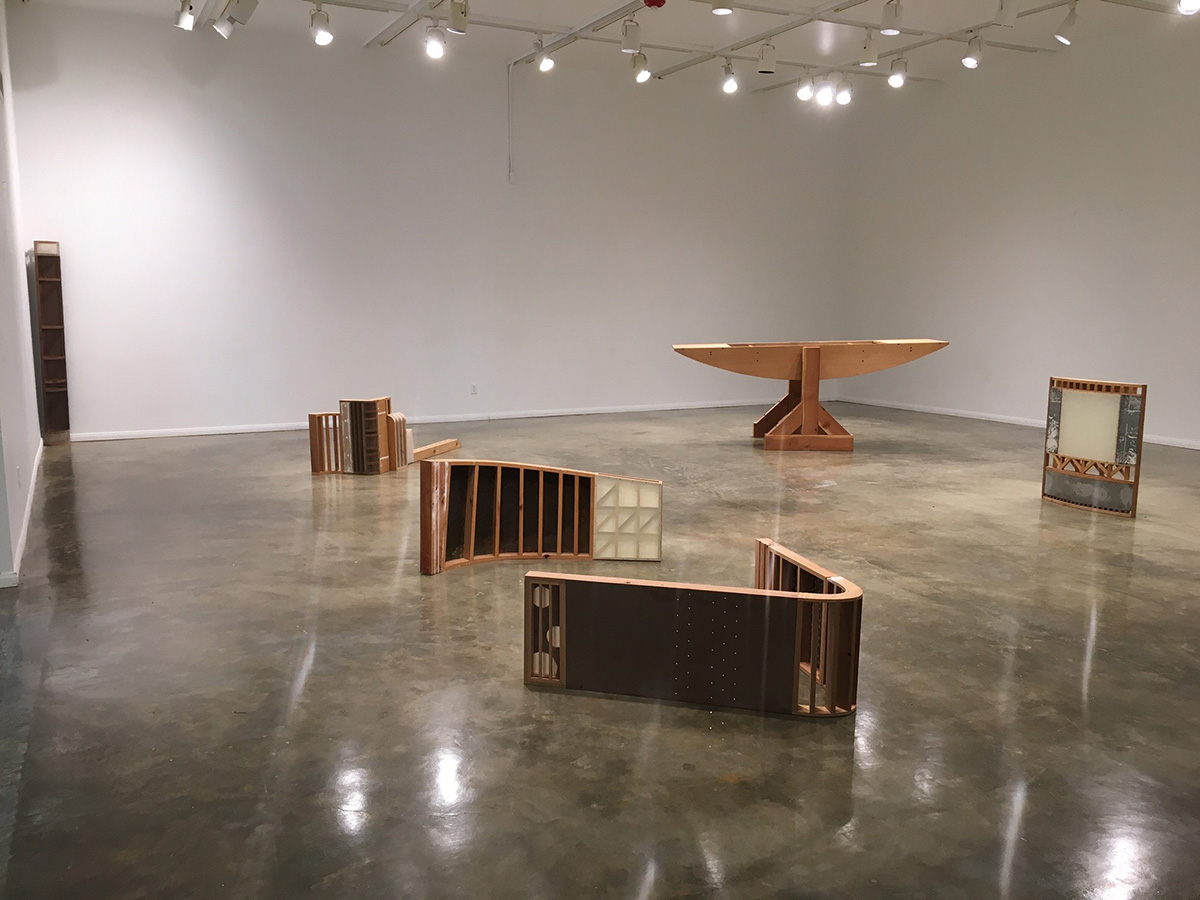 The MSJC Art Gallery is pleased to present a very special sculptural installation by Mick Gronek. From the Ground Up is a unique opportunity to explore Gronek's early sculptural work from the 1990s. Mick recently retired from MSJC and taught here for over 20 years. Gronek is well known for his paintings, and this exhibition is an in-depth look into his past sculptural work, that looks as fresh as if it were made last week.
Gronek's sculptures are discrete objects but their forms allude to things outside themselves. His forms have an uncanniness where a sculpture with no relation to a television has a certain televisioness to it. An angled arch that lays directly on the floor looks as though it might be an excavated piece of an art deco building. His materials of tempered hardboard, clear pine, aluminum flashing, cast concrete add to the familiar but unplacable quality of his work.
Although this exhibition features only his sculpture you can see how these early works lead into his noteworthy painting style. Gronek's painting involves the application of patinas on various metals to provoke an alchemical transformation. He sets into motion a partially uncontrolled process of oxidation that will continue to react to it's environment in an unfixed state. This activated surface is visually layered to create an ambiguity of spatial depth and meaning.
Since 1977, Southern California based visual artist Mick Gronek has been engaged in a process of exploration that is rooted in the traditions of painting and influenced by printmaking techniques, creating his own version of contemporary abstraction. After studying at U. C. Riverside he began to experiment with patinas and various metals to create a series of "chemical paintings". He has participated in numerous solo and group exhibitions, including juried shows by critic Peter Frank and artists Judy Chicago and Laddie Dill. After completing his B. A. Degree from U. C. Riverside and an M. F. A. from Claremont Graduate University he began exhibiting his work and maintains a studio in Portland, Oregon.