Theater Arts
Degree(s)
Transfer:
A.A.-T in Theatre Arts for Transfer
(using General Education Requirements Option B or C)
See Also:
A.A. in Liberal Arts - Arts, Humanities & Communications Emphasis
Non-Transfer:
A.S. in Technical Theater
(with General Education Requirements Option A)
See Also:
A.A. in Musical Theater
A.A. in Humanities
Certificate(s)
Certificate in Technical Theater
See Also:
Certificate in Musical Theater
Employment Concentration Certificate(s)
None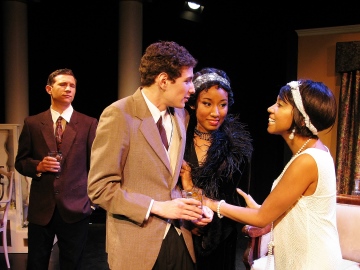 San Jacinto Campus
(951) 487-MSJC (6752)
1-800-624-5561
Bianca Swan-Finch 951-487-3791
bfinch@msjc.edu
Menifee Valley Campus
(951) 672-MSJC (6752)
1-800-452-3335
Shezwae Powell 951-639-5793
spowell@msjc.edu​
Program Description
The Theater Arts Program offers one transfer degree, two non-transfer degrees, and two certificates: A.A.-T in Theater Arts, A.A. in Musical Theater, A.S. in Technical Theater, and certificates in Musical Theater and Technical Theater. The Theater Arts Program at MSJC gives the serious student an opportunity to commit to an active and challenging program of class work along with live play and musical productions. Course work is designed to provide students a path to facilitate matriculation to a four-year college or enter the entertainment industry work force. For many individuals currently working within these fields, there may be potential for salary and/or career advancement. For non-majors it offers the opportunity to gain the type of confidence, self-possession and aesthetic awareness that can benefit any career path.