Registered Nurse
Associate in Science Degree
---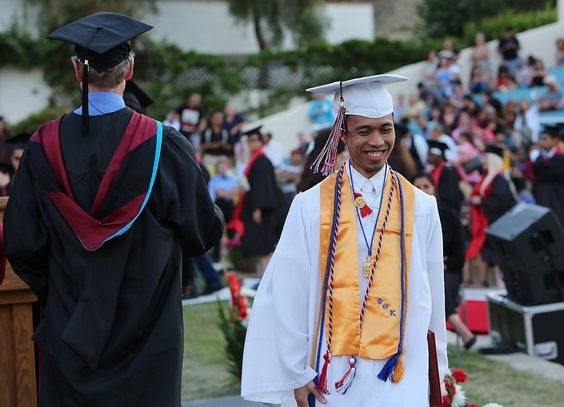 The Associate of Science Degree in Nursing Program is approved by the California Board of Registered Nursing (BRN). It requires four semesters of study after the completion of prerequisite courses and admission requirements. Upon completion of the 75 unit program, the graduate earns an Associate of Science Degree in Nursing, and is eligible to apply for the National Council Licensure Examination for Registered Nurses (NCLEX-RN) for licensure as a Registered Nurse in the State of California.
Essential Functions
---
All applicants are required to meet the Essential Functions for Success in the Nursing Program. See the Essential Functions Policy which also found in the Associate Degree Program Student Policy and Procedure Handbook.
Program Prerequisites
---
Prerequisites in this program will be enforced. All program prerequisites must be completed with a grade of "C" or better. In addition, the combined grade-point average for prerequisites must be 2.5 or higher.
1. High School diploma, G.E.D., or California Proficiency Exam (Associate or Bachelor's degree accepted)​
​

Course

Course Name
​Units

​Anatomy 101

​Anatomy & Physiology I
4
​Anatomy 102
​Anatomy & Physiology II
4
​Biology 125
​Microbiology
​5
Math 140

Math 140 Introduction to Statistics or any College Level Math listed 100 or above

3

​English 101
​Freshman Composition

​4
Curriculum Plan
---
SEMESTER ONE​ ​
| Course | Course Name | Units |
| --- | --- | --- |
| ​NURS 194 | ​Pharmacology/Dosage | ​3.5 |
| ​NURS 212 | ​Foundations of Nursing | ​4 |
| ​NURS 214 | ​Intro to Medical Surgical Nursing I | ​4 |
| ​NURS 571 | ​Foundations of Nursing Skills Lab | ​0.5 |
SEMESTER TWO
Course

Course Name
Units

NURS 222​

​Nursing Care of Children & Families
​3.5
​NURS 224
​

Beginning Medical Surgical Nursing II

​5
​NURS 226
​

Nursing Childbearing & Families

​3.5
​NURS 572
​

Basic Medical Surgical Nursing Skills Lab

​0.5
​SEMESTER THREE
Course

Course Name

Units

NURS 234​

Intermediate Medical-Surgical Nursing III

​
​5
NURS 236​
​

Mental Health Nursing

​3
NURS 238​
​

Gerontology/Community Nursing

​2
NURS 573
​

Intermediate Nursing Skills Lab

​0.5
​SEMESTER FOUR
Course

Course Name
Units

NURS 244​

​

Advanced Medical-Surgical Nursing IV

​4

NURS 248​

​

Preceptorship (9 weeks)

​2.5

NURS 574​

​

Advanced Nursing Skills Lab

​0.5
​ADDITIONAL DEGREE & LICENSURE REQUIREMENTS BY PROGRAM COMPLETION ​ ​
Course
Course Name
Units
Psychology 101​
​Introduction to Psychology
​3
Political Science 101​
​Introduction to American Government & Politics
​3

Communication 100 or

Communication 103​

Public Speaking or
Interpersonal Communication​

​3
One 3-unit course must be completed in Area C (Humanities) and Area F (Diversity and Ethnic Studies) on the MSJC AA/AS Degree General Education Pattern (Option A).
*
Nursing program will honor taking one course to fulfill Area C and Area F for all students that have catalog rights prior to Fall 2021 semester

Students completing the Associate of Science Degree in Nursing Program will have met the General Education requirement for Area E: Physical Education & Healthful Living.
Students may also review AA/AS Degree General Education Requirements in the course catalog.



Note: To comply with SB 1393, students with a baccalaureate degree from a U.S. regionally accredited institution will have the following General Education requirements waived: PS 101, Humanities (Area C) and Diversity (Area F).
As per BRN Section 1426 Required Curriculum (c) - The curriculum shall consist of not less than fifty-eight (58) semester units, or eighty-seven (87) quarter units, which shall include at least the following number of units in the specified course areas:(1) Art and science of nursing, thirty-six (36) semester units or fifty-four (54) quarter units, of which eighteen (18) semester or twenty-seven (27) quarter units will be in theory and eighteen (18) semester or twenty-seven (27) quarter units will be in clinical practice.(2) Communication skills, six (6) semester or nine (9) quarter units. Communication skills shall include principles of oral, written, and group communication.(3) Related natural sciences (anatomy, physiology, and microbiology courses with labs), behavioral and social sciences, sixteen (16) semester or twenty-four (24) quarter units.
---
When planning expenses, students should be aware they may have to limit their hours of employment, due to extensive RN Program requirements. Scholarships and grants are available to those students who qualify through the MSJC Financial Aid Office.
Students pay for tuition, ASB card, student health fee, parking permit, as stated in the current college catalog.
Nursing uniforms designated by the Nursing Department - $350
Nursing textbooks and supplies - $2,500 for the entire program
CPR courses - $65
Physical examinations/laboratory tests - $300-$500
Medical Document / Background Package - CastleBranch
(includes background check, drug screen & medical document manager) - $121.75
CastleBranch random drug screen - $32
Licensing Board applications - Approximately $300-$400
Kaplan Testing - $600-$750
Student Supply Kits - $200
Professional Student Nursing Insurance coverage is required and is purchased through Nurse Services Organization (NSO). Additional liability insurance covering students is provided by the college at no cost to the student. - $35/year
Personal Health Insurance coverage

-

vendor costs may vary

Fingerprinting (Mental Health) - $60-70
California Board of Registered Nursing Legal Limitation of Licensure
---
Misdemeanors/Felony Notification
Graduates of the Associate of Science Degree in Nursing Program are eligible to apply for the NCLEX-RN for licensure. One requirement to qualify for the licensing examination is the submission of additional fingerprints which are then evaluated by the California Department of Justice and the FBI. Applicants must report any prior conviction of any offense other than minor traffic violations. Failure to report such convictions can be grounds for denial of licensure. The Board of Registered Nursing investigates any convictions. Questions pertaining to the legal limitations of licensure should be addressed by the student to the Board of Registered Nursing prior to beginning the Associate of Science Degree in Nursing Program: Board of Registered Nursing, P.O. Box 944210, Sacramento, CA 94244-2100, (916) 322-3350. E-mail address: brn_licensing@dca.ca.gov
Citizenship and Immigration Status Verification Required for RN Licensure
The Federal Personal Responsibility and Work Opportunity Reconciliation Act requires government agencies to eliminate "public benefit" to individuals who cannot provide proof of their legal status in the United States. "Public benefit" has been interpreted to include a license issued by a state. This means that all applicants for licensure as registered nurses are required to submit verification of citizenship or legal residence status in the United States.
Disclosure of Social Security Number
Disclosure of one's social security number or ITIN is mandatory for licensure by the BRN in accordance with Section 30 of the Business and Professions Code and Public Law 94-455 (USCA 405 (c) (2) (c).
The Mt. San Jacinto Community College District Board of Trustees has adopted policies and procedures and endorsed practices which provide for the District, its employees and students to be in compliance with all the applicable laws relating to discrimination on the basis of gender, age, race, color, national origin, religion, disability, or sexual orientation.
Please find more information on BRN requirements on the California BRN Examination Application Fees and Instruction.
Students will be unable to attend Clinical Facilities for the following convictions:
Sexual offenses/sexual assault
Felony possession and furnishing (without certificate of rehabilitation)
Felony drug and alcohol offenses (without certificate of rehabilitation)
Other felonies involving weapons and/or violent crimes
Class B and Class A misdemeanor theft