Fire Technology
Degree(s)
Transfer:
None
Non-Transfer:
A.S. in Fire Technology
(with General Education Requirements Option A)
Certificate(s)
Certificate in Fire Technology
Employment Concentration Certificate(s)
Fire Academy Preparation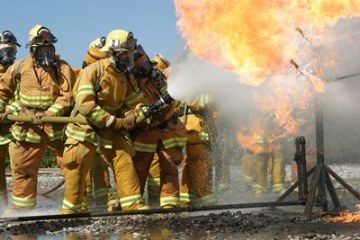 San Jacinto Campus
(951) 487-MSJC (6752)
1-800-624-5561
Menifee Valley Campus
(951) 672-MSJC (6752)
1-800-452-3335
Nursing and Allied Health Unit (951) 639-5577
msjc.edu/nursingandalliedhealth
Program Description
The non-transfer Certificate/Associate degree (A.S.) in Fire Technology involves the study of fire behavior, protection and control techniques which for individuals currently working within these fields, there may be potential for salary and/or career advancement. This program prepares the student for an entrylevel career in the fire service by providing a foundation of core concepts, practices, vocabulary, culture, safety and requirements for the fire service. This program is designed to prepare students for the entry-level career in public or private fire protection agencies, to survey career options, and to upgrade fire personnel. This program follows the Fire and Emergency Services Higher Education (FESHE) model from the National Fire Academy in Emmetsburg, Maryland and is a component of accreditation from the California State Fire Training.