English
Degree(s)
Transfer:
A.A.-T in English for Transfer
(using General Education Requirements Option B or C)
See Also
A.A. in Liberal Arts - Arts, Humanities & Communications Emphasis
Non-Transfer:
None
See:
A.A. in Humanities
Certificate(s)
None
Employment Concentration Certificate(s)
None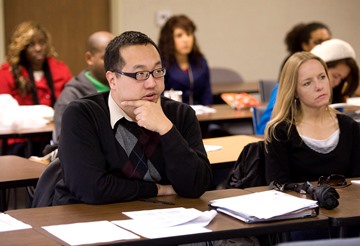 ​San Jacinto Campus
(951) 487-MSJC (6752)
1-800-624-5561
Andrea Hammock (951) 487-3755
ahammock@msjc.edu
Menifee Valley Campus
(951) 672-MSJC (6752)
1-800-452-3335
Crystal Bryan (951) 639-5642
cbryan@msjc.edu​
Program Description
English, a transfer program, is an academic discipline focusing on the development of language skills through composition, critical thinking, and the study of literature and writing. Language skills provide an essential foundation for academic and career success. The study of English enhances a wide variety of intellectual skills while exposing students to a major source of cultural enrichment. The scope of the English program includes Freshman Composition, Critical Thinking and Composition, Introduction to Literature, American Literature, English Literature, Survey of Shakespeare, World Folklore, Introduction to Creative Writing, Adolescent Literature, Children's Literature, Introduction to African American Literature, American Indian Literature, Women and Literature, Multiethnic Literature, and Film and Literature.