Dance
Degree(s)
Transfer:
Please see your counselor for transfer preparation in Dance.
See:
A.A. in Liberal Arts - Arts, Humanities & Communications Emphasis
Non-Transfer:
A.A. in Dance
(with General Education Requirements Option A)
See Also:
A.A. in Musical Theater
Certificate(s)
See:
Certificate in Musical Theater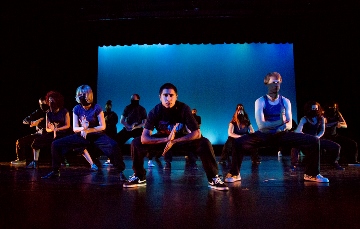 San Jacinto Campus
(951) 487-MSJC (6752)
1-800-624-5561
Julie Freeman (951) 487-3630
jfreeman@msjc.edu
Menifee Valley Campus
(951) 672-MSJC (6752)
1-800-452-3335
Paula Naggi (951) 639-5792
pnaggi@msjc.edu
Program Description
The Dance Program at MSJC provides a two-year concentration for students pursuing academic studies in dance, culminating in a non-transfer Associates of Art degree in Dance and/or a Certificate in Musical Theater. Multi-faceted curricula in the theory and practice of the discipline facilitate matriculation to a four-year institution. Challenging coursework, dance touring and performance opportunities are presented in order to prepare the serious student. A hallmark of the program is the ability for students to commit to professional technical training, choreographic inquiry, performance and historical studies of dance within a nurturing, liberal arts college environment.
Course offerings include ballet, modern, jazz, hip hop and tap dance techniques, ballroom and world dance forms, conditioning and alignment for dance, choreography, improvisation and dance history.
Additionally, the program provides extended training of the emerging choreographic and performing artist through advanced coursework in dance composition and technique, and numerous concerts and informal showings throughout the year. A balanced program of critical thinking, choreographic inquiry and performance contextualizes the student's understanding of the impact of dance within the contemporary world. For individuals currently working within these fields, there may be potential for salary and/or career advancement.