Computer Information Systems
Computer Information Systems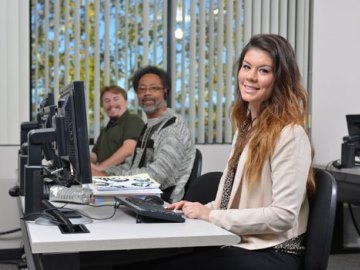 San Jacinto Campus
(951) 487-MSJC (6752)
1-800-624-5561
Glenn Stevenson (951) 639-5532
gstevenson@msjc.edu
Menifee Valley Campus
(951) 672-MSJC (6752)
1-800-452-3335
Glenn Stevenson (951) 639-5532
gstevenson@msjc.edu
Program Description
Computer Information Systems are the tools that facilitate the effective and efficient transformation of data into information. MSJC's CIS program is designed to provide students with the knowledge and skills required to gain entry level employment as computer programmers, and/or software/system administration technicians.
The requirement and knowledge and hands-on experience in microcomputer applications, programming, operating systems, and networking. The program in Computer Information Systems offers students an opportunity to earn a transfer degree in Computer Science, a non-transfer CIS Associate degree, State Approved Certificate, or locally approved Employment Concentration. The program offers students the choice of pursuing a transfer degree in Computer Science, an Associate in Science (A.S.) degree in Computer Information Systems or certificate(s) with emphasis in Internet Authoring, Networking and Programming. The program also offers a transfer preparation. The courses offered will transfer to California State University/University of California systems, and other four-year colleges.
These programs offer students a well-equipped technical environment for instruction and lab. CIS courses are taught in computer equipped classrooms, allowing hands-on experience in the use of industry-standard hardware, application software, operating systems, networking, and programming tools.