Business Administration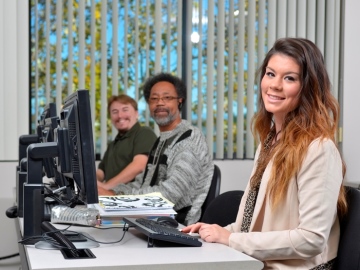 San Jacinto Campus
(951) 487-MSJC (6752)
1-800-624-5561
Larry Barraza (951) 487-3525
lbarraza@msjc.edu
Menifee Valley Campus
(951) 672-MSJC (6752)
1-800-452-3335
Caren Hennessy (951) 639-5526
chennessy@msjc.edu
Gloria Sanchez (951) 639-5520
gsanchez@msjc.edu
Program Description
The Business Department offers an Associate in Science in Business Administration for Transfer degree. The Business Administration curriculum is designed for students who are interested in an encompassing formal business education. The A.S.-T in Business Administration for Transfer degree will assure preparation and readiness for transfer to the CSU system.
The Business Department also offers a non-transfer Associate degree in Business Administration structured around a set of core courses enabling students to develop a general business perspective and skills. The program offers students the knowledge and skills necessary to understand the changing global and domestic business environment and to prepare students for success in their professional careers.
The non-transfer Accounting Certificate is designed to prepare students for entry-level positions in accounting in public and private sector areas in industry such as small business, public accounting, financial service, wholesale trades, government and nonprofit. The student will have an understanding of fundamental accounting and business concepts and gain valuable skills needed in the evolving and competitive job market. Entry-level opportunities include but not limited to positions in accounts receivable/payable, general bookkeeping and accounting, payroll, income tax preparation, cost accounting, and a number of trainee/internship positions. This certificate also provides a path to higher level education. The Accounting Certificate requires the completion of 24-27 units of which 18 are in required courses. Additional 6-9 units must be chosen from a list of selective courses. The certificate will take at least one to two years to complete.
The non-transfer Certificate in Business Administration provides a broader theoretical overview and approach to the business world. The Business Department is committed to providing a broad and flexible professional education. Recognizing the importance of Accounting, Business Law, Economics, Finance, and Marketing in the business community; these areas provide students with learning opportunities relevant to everyday business and consumer decisions.
Transfer students may earn an Associate degree in Liberal Arts with an area of emphasis that includes Business and Technology. This degree path is designed to accommodate the differing requirements for a wide variety of transfer institutions and provides an efficient means to achieve transfer goals and career success.
For individuals currently working within these listed fields, there may be potential for salary and/or career advancement.