Anthropology
Degree(s)
Transfer:
A.A.-T in Anthropology for Transfer
(with General Education Requirements Option B or C)
See:
A.A. in Liberal Arts - Social & Behavioral Sciences Emphasis
Non-Transfer:
None
See:
A.A. in Social/Behavioral Science
A.S. in Science
Certificate(s)
None
Employment Concentration Certificate(s)
None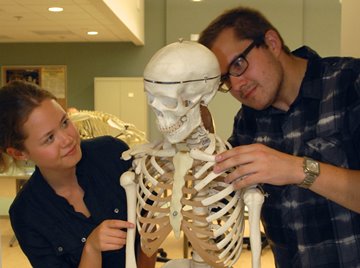 San Jacinto Campus
(951) 487-MSJC (6752)
1-800-624-5561
John Torres, (951) 487-3654
jtorres@msjc.edu​
Menifee Valley Campus
(951) 672-MSJC (6752)
1-800-452-3335
Erik Ozolins (951) 639-5725
eozolins@msjc.edu
Program Description
The A.A.-T Anthropology degree at MSJC was developed to provoke student interest in human issues. It provides basic information about humankind. It is also designed to stimulate critical thinking about existing stereotypes regarding the people around us in the world now and those who came before.
Anthropology is the study of ancient and modern human beings and their ways of living. This study is based upon several kinds of information and is divided into four sub-disciplines which attempt to understand basic aspects of humankind. Cultural Anthropology studies human behavior to understand the cultural values that guide the behaviors. Archaeology examines the material record of human activity in order to understand how ideas change over time. Anthropological Linguistics is the study of the human capacity for language and its use. Physical Anthropology (also called Biological Anthropology) is the study of human evolution which includes human biological diversity.
It would be difficult to find a college major or a career that would not benefit from the study of anthropology. This is the discipline that studies both the biological diversity inherent in the human species and the cultural diversity that has developed in human populations over time. For most of the possible careers involving a major in anthropology it is likely that students will have to complete bachelor, masters or even doctorate degrees.