Undocumented Student Week of Action
Undocumented Student Week of Action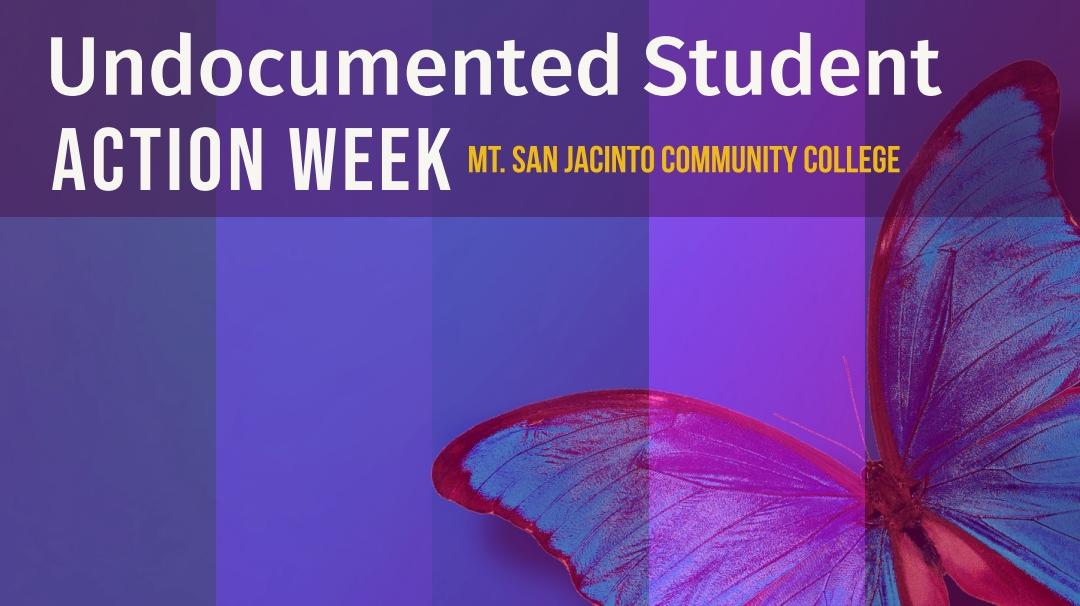 Information about the Undoumented Student Action Week for 2023 will be posted as it becomes available.
October 17
EOPS, UndocuDREAMers & Financial Aid Presentations | 11am -1pm
Come network, eat, and learn with the UndocuDREAMers program, Eagles' DREAM Club, TODEC, and the UndocuDREAMer's Affinity Workgroup. This session will be a hybrid event. Lunch and networking will take place from 11am-12pm at the Menifee Valley Campus in the Courtyard in front of the EOPS/CARE, Guiding Light, and UndocuDREAMers Office - Bldg 250. Then from 12pm-1pm learn about the resources available to UndocuDREAMer students at MSJC with a presentation from EOPS, UndocuDREAMers & Financial Aid
October 18
UndocuTalks with TODEC | 12pm - 1pm
Join us in learning about current legislation, resources, and best practices in supporting Undocufolx in gaining and maintaining employment. This event will take place at the SJC campus in Room 300.
October 19
UndocuExperience Student Panel:
Alumni and Student Speakers | 5pm - 6:30pm
Join us in a conversation with Alumni and current students to learn more about resources, communities, and all things to know in advocating for and supporting Undocu students from the community college to transfer.
This will be a hybrid event with the in-person location at the Menifee Valley Campus in room 927.
October 20
Art Talk | 12pm - 1pm
This is a special opportunity to hear artist and MSJC associate faculty member Dulce Soledad Ibarra speak about her artwork and career as an artist. Ibarra is a multidisciplinary artist, designer, educator, and curator with investments in community and identity-emphasized arts and opportunity. As a practicing artist, Ibarra discusses issues of generational guilt, identity, class, labor, displacement, and injustice in sculptures, videos, installations, performances, and participatory work.
Game Night: Loteria | 5pm - 6:30pm
Lotería is a traditional game of chance, similar to bingo, using cards with images. Every image has a name and an assigned number, but the number is usually ignored. Each player has at least one tabla, a board with a randomly created 4 × 4 grid of pictures with their corresponding name and number. Players choose what tabla they want to play with, from a variety of previously created tablas. Each one presents a different selection of images.
October 21
Art Experience: Unapologetic Resilience & Self-Care | 11am - 12pm
Join in an art experience presented by the Eagle's DREAM Club and MSJC Mental Health Services. We will explore how to care for ourselves unapologetically through art expression.
*Paint canvases and supplies will be available for pick-up throughout the week at each event and in our offices at San Jacinto - Bldg 1100, Rm 1113 and Menifee - Bldg 250.
Monday, October 19
Week of Action Kick-Off Event | 4:30-6pm
Join us as we hear from keynote speaker Julio Salgado. Featuring music by Mariachi Arcoiris de Los Angeles, the world's first LGBTQ+ mariachi!
Julio Salgado is the co-founder of DreamersAdrift and the Migrant Storytelling Manager for The Center for Cultural Power. His status as an undocumented, queer artivist has fueled the contents of his visual art, which depict key individuals and moments of the DREAM Act and the migrant rights movement. Undocumented students, organizers and allies across the country have used Salgado's artwork to call attention to the migrant rights movement.
Salgado is the co-creator of The Disruptors Fellowship, an inaugural fellowship for emerging television writers of color who identify as trans/and or non-binary, disabled, undocumented and/or formerly undocumented immigrants. His work has been displayed at the Oakland Museum, SFMOMA and Smithsonian.
For more information about Julio visit his website, juliosalgadoart.com and follow him on social media @juliosaglado83
For information about Mariachi Arcoiris de Los Angeles visit their website, mariachiarcoiris.com and follow them on social media @mariachiarcoiris
Tuesday, October 20
Undocumented Students in California
Financial Aid Workshop (English)
Career Exploration Workshop
Wednesday, October 21
Know Your Rights Workshop
Community Organizing 101
Living Undocumented Screening & Discussion
Thursday, October 22
Supporting Our Dreamers Student Panel
Immigration & Policy Updates
Financial Aid Workshop (Spanish)
Friday, October 23
The winners of the Dreamers Poetry & Art Contest have been chosen! Visit the Art Gallery page to see our winners showcased!